Hollywood P.D. Undercover

A Scott Shaw Zen Film

Created, Produced, and Directed by Scott Shaw, Hollywood P.D. Undercover is the story of Hard-Boiled undercover police officers on the mean-streets of Los Angeles, California.

Hollywood P.D. Undercover Stars: Scott Shaw, Richard Magram, and Kenneth H. Kim (who both co-wrote and co-produced the film).

The Co-Stars of this film include: Elizabeth Jarosz and Danielle James.

POSTERS & TEE SHIRTS:
The Scott Shaw Poster Gallery

Film Trailer:
Hollywood P.D. Undercover

DVD:

Hollywood P.D. Undercover
Click on the title to pick up your copy.





Film Facts:

Scott Shaw originally believed the footage for the Zen Film he had created with Donald G. Jackson,
The Rock n' Roll Cops
was lost forever. As such, he decided to take the title and the concept a completely different direction and create this movie. His initially hope was to film the entire feature film in one continuous take, going from one character interaction onto the next. During preproduction he realized, however, that due to the fact that many of the cast and the crew on this film were inexperienced this was not going to be possible. Thus, he moved forwarded with a scene-by-scene creative process. Shaw and his team filmed this movie partially at U.C.L.A., where Shaw was teaching filmmaking at the time, and it was initially released on video tape with the title, Rock n' Roll Cops—referencing the documentary style of filmmaking used in this film's creation. Shortly after this film's completion, Donald G. Jackson entered the hospitable (also at U.C.L.A) for the last few weeks of his life. Before he did he gave Shaw all of the footage from the original film that Shaw thought was lost. Once Shaw received this footage he edited and released the original, The Rock n' Roll Cops on DVD and retitled this film, Hollywood P.D. Undercover. Below is the original poster.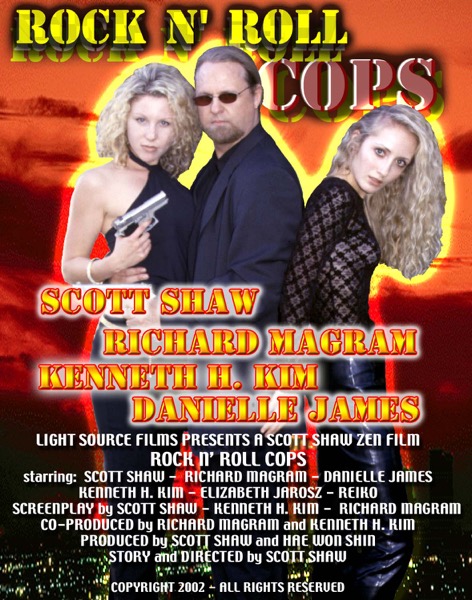 HOLLYWOOD P.D. UNDERCOVER PUBLICITY AND PRODUCTION STILLS: